If the saying "Spring plays peek-a-boo after Valentine's day" is true, this means that the season of endless walks with your dog is just around the corner. If you want to buy a new lead, today we'll tell you about Amigo, our super colourful roll-up lead!
The lead, whether traditional or roll-up, is a must that no dog can live without. In addition to being functional, we're convinced that it should also be pretty, just like the Ferplast Amigo. This is the super practical and fashionable automatic model, made with high quality materials, that stands out for its many available colours. It's just what we need to always keep our pet in check, letting him still run and move freely..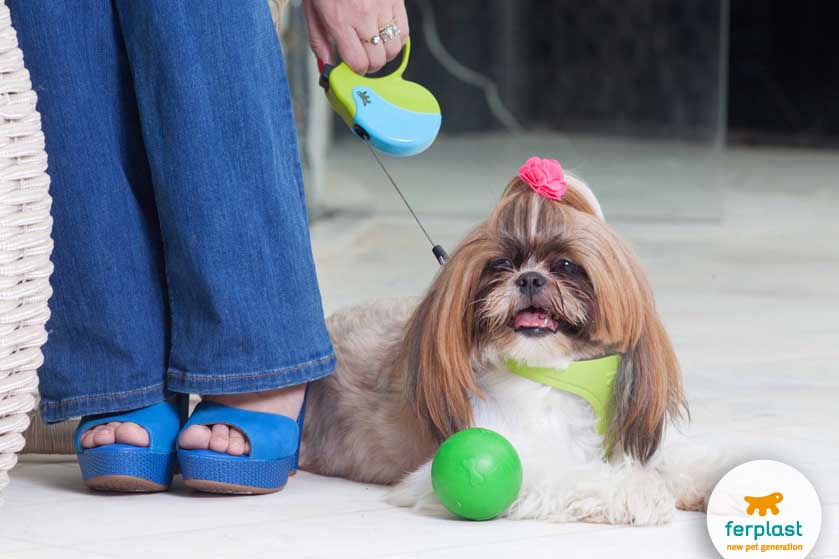 Naturally, when you're about to buy one, its best to consider the size of your dog: as known, each lead is approved for one weight rather than another, but in any case, Amigo come in various sizes, whether you need to walk a Poodle or a German Shepard.
Amigo also comes in two versions, Cord and Tape. The Amigo Cord differs from the Amigo Tape since it comes with a cord while the second comes with an extensible strap; otherwise they are both available in 4 sizes:
Mini, with 3-metre cord/strap for dogs up to maximum 12 kg, such as a Maltese or Shih-Tzu;
Small, with 5-metre cord/strap for dogs up to maximum 15 kg, such as Nala the poodle;
Medium, with 5-metre cord/strap for dogs up to maximum 25 kg, such as a Border Collie or Beagle;
Large, with 5-metre cord/strap for dogs up to maximum 50 kg, from Boxers to Bull Terriers.
This means that Amigo leads are strong and work perfectly with both puppies and large-sized dogs. Unlike the Amigo Tape, the Amigo Cord lead also comes in an additional size: Long, with 7-metre cord… but be careful! You should only give your pet free reign when out of danger, meaning there are no other people or animals around nor when cars are near, to avoid unpleasant troubles for your pet and others.
A feature that makes Amigo one of a kind is the single control button with three functions: free slide, temporary lock and permanent lock at the desired length. Thus, if one hand is occupied, no problem: just one finger is all you need!
And that's not all! You can choose to customise the lead colour according to how you feel and what you're wearing. How? Simple! Thanks to the multiple interchangeable covers that let you create hundreds of different combinations. With skulls, flowers, cookies, fluorescent or two-tone colours, there's a wide range of choices and, why not, you can even match it to your pet's coat to go out in style.