If your rabbit greets you by pawing, it means that he is happy. To keep him happy and healthy, you can't help but surround him with the right rabbit accessories.

Among the most frequent questions asked by rabbit owners, as well as all pet parents, the number one concerns the well-being of their animals: "what does my rabbit need in order to live a peaceful life?". The must-have rabbit accessories are the house, the drinking bottle, the toilet, the brushes and the toys. Five things that are sure to make your bunny happy.
Accessories for rabbits: the house
The habitat is necessary for the well-being and safety of the rabbit, especially when we are away from home. The furry little rabbit, in fact, loves to gnaw on everything around him and leaving him free to roam around the house could be a risk. For this reason, it is important that he has ihs own safe place, large enough to allow him to move and jump freely. Inside the cage there must be a kennel, a fundamental accessory because it guarantees a place where the rabbit can shelter and feel protected. Ferplast's rabbit hutches come in different materials, shapes and sizes.
The wooden hutches, for example, are made of FSC-certified material, which comes from sustainably managed forests. They are equipped with holes for air circulation and to guarantee an ideal environment for your rabbit. Plastic hutches, on the other hand, come complete with a food bowl and are a perfect place to rest.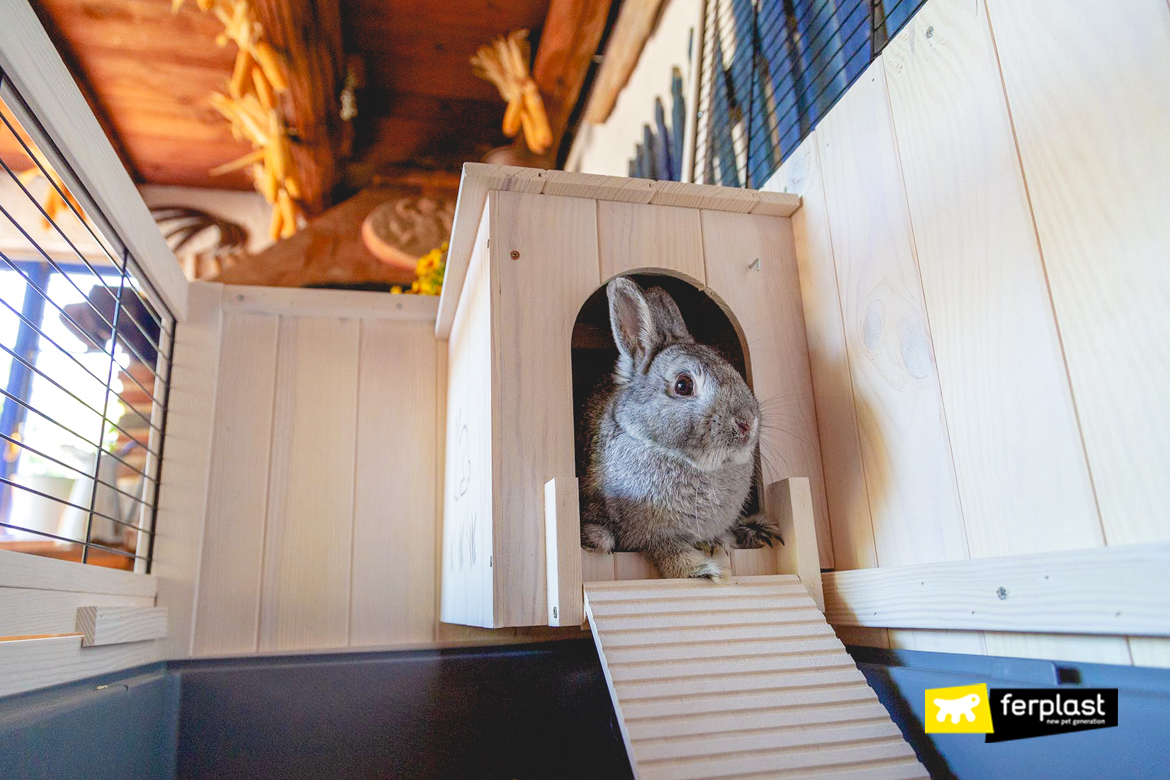 Among Ferplast's kennels made of certified Nordic pine, Baita 40 is the model that is also suitable for outdoor use. The hutch is treated with a special non-toxic varnish to ensure durability and resistance, even to bad weather. It features a door with a safety lock and sliding roof for easy cleaning, as well as a rear ventilation grille to prevent moisture.
Accessories for rabbits: the drinking bottle
Another aspect that should not be overlooked at all is hydration. Among the rabbit accessories to have is a drinking bottle. There are various models of drinking bottle, the vertical one prevents the rabbit from getting wet while drinking. Drinky and Sippy are Ferplast's most popular models, both made of plastic and equipped with a practical net attachment. Drinky has a spout with a stainless steel ball valve and protective gasket, Sippy has a suction cup for attachment to glass and plastic.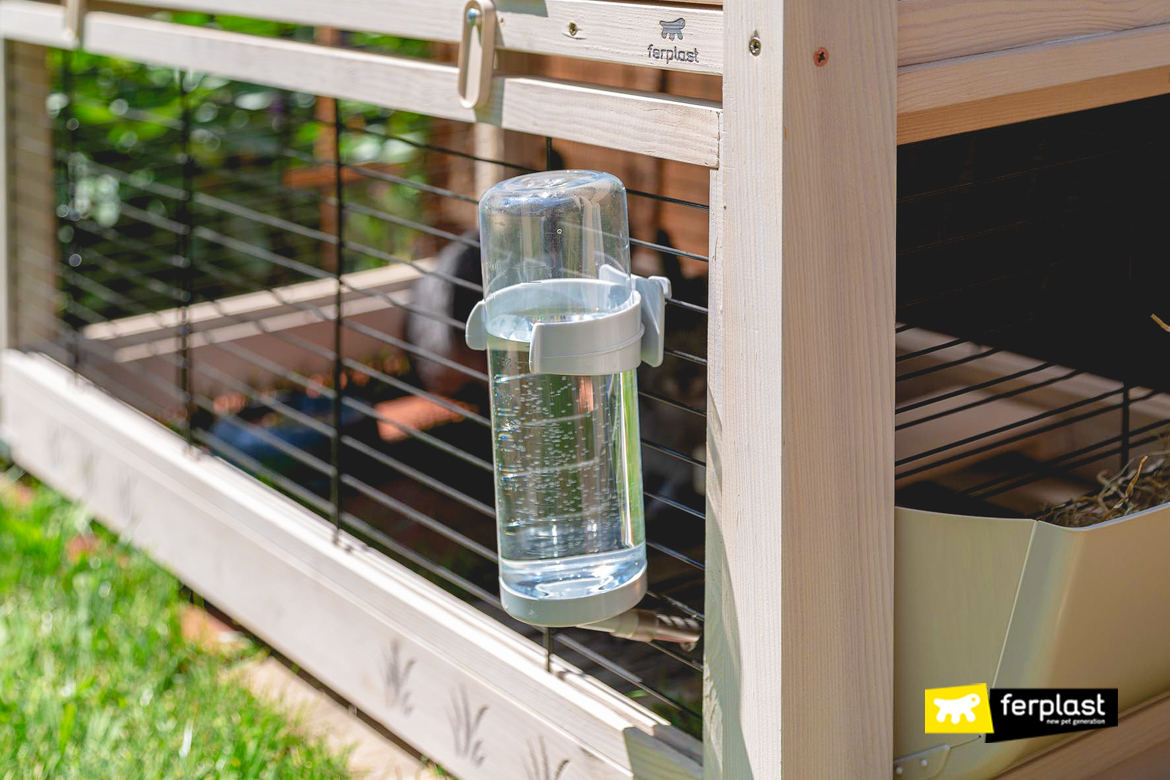 Accessories for rabbits: the toilet
Another accessory for rabbits is the toilet. With its rectangular shape, it can be placed in the most hidden corners of the cage and allows the rabbit to do his business in peace. Made of sturdy plastic, it's easy to clean. In addition, to keep the animal separate from his droppings, you can place a hygienic net with large mesh holes on the base of the toilet.
Accessories for rabbits: brushes
To keep your pet's coat soft and shiny, it's necessary to take care of it with the right tools. First of all with the GRO 4968 clipper, for the care of the undercoat, with resharpenable stainless steel blades, to be used with the utmost care especially in the most delicate areas. The GRO 4949 carding brush, ideal for removing dead hair and massaging the coat thanks to its plastic teeth. Finally, GRO 5759 Premium with polyamide bristles that act on the coat in a gentle way and make it clean and shiny.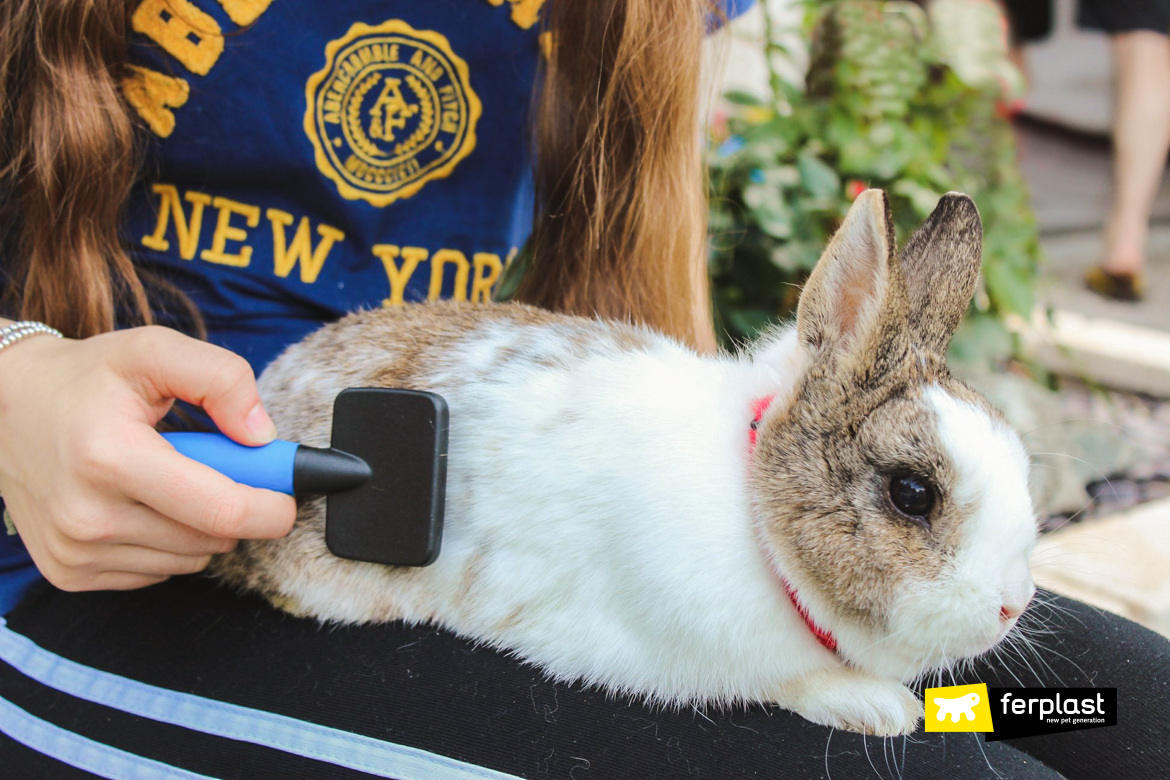 Accessories for rabbits: games
Among the accessories for rabbits games can't be missing. Playing is a very important activity for them, as it stimulates physical activity and learning. For their oral health, gnawing toys are important, such as willow wood sticks, useful for limiting the excessive growth of incisors and keeping teeth healthy. Or, the toys from the Tiny&Natural line: available in fun shapes – cheese, apple and carrot -, they are an excellent pastime for rabbits, who will be encouraged not to gnaw the cage or their surroundings. They are ecological, biodegradable and non-toxic, so there is no risk to the health of your furry pet.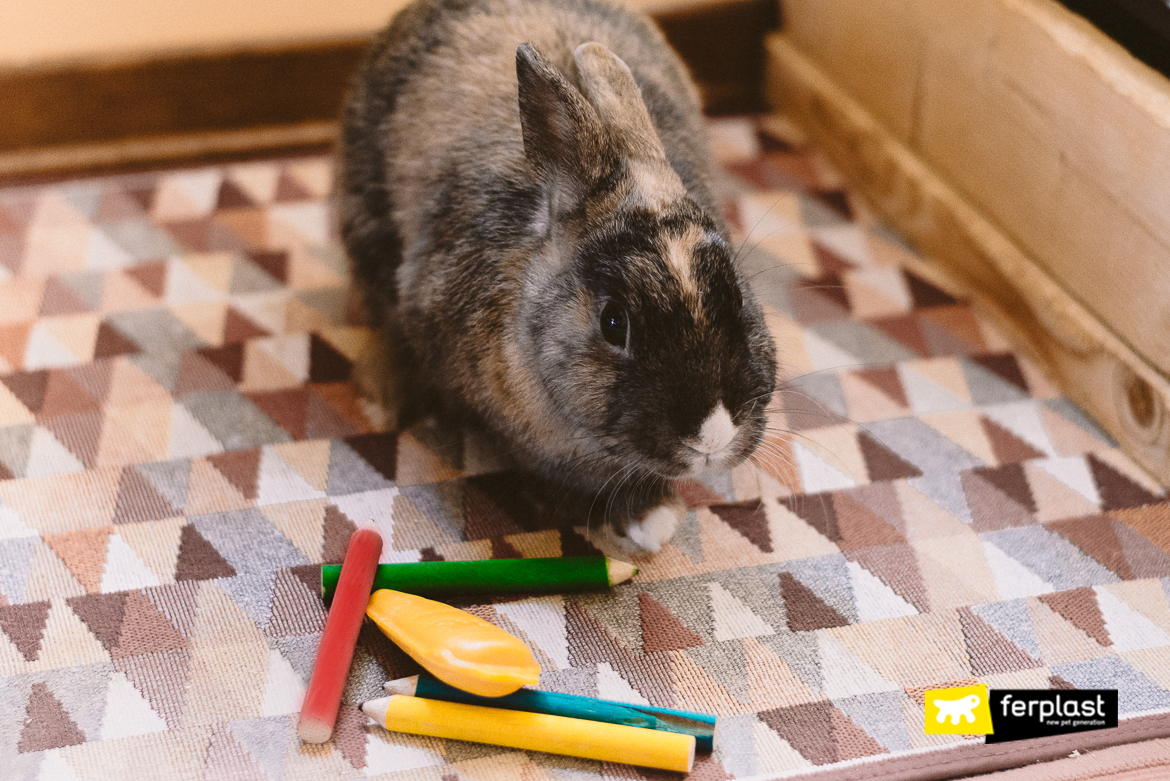 These rabbit accessories are a must for the care and well-being of your furry little one. If you're looking to adopt a bunny, you can't do without them.