Cats really are sleepyheads. Whenever they find a secluded place where they can take a nap, they never forget it. If your kitty has got into the habit of sleeping on a chair but you don't want the cushion to get dirty, you really need to find a valid alternative. Here are the best cushions in the Classic Cat Collection that would make nice gifts for our feline friends!
Ferplast's Classic Cat Collection
Cats are animals that love to sleep in warm, dark little places, preferably in a raised position and away from prying eyes. However, we know cats very well and we can confirm that they also greatly appreciate a soft and cosy cushion that will make them nice and warm in autumn and winter. The products in the Classic Cat Collection have such a captivating design that your kitty will fall in love with them right away!

Ferplast's Cat Collection: Cushions for cats
Those who want cushions specifically designed for cats, which are large, comfortable and easy to wash, should aim for the models in the Classic Cat Collection. They are light, easy to handle and keep your cat protected. All the cushions and sofas in this line share a bold and lively look with a black and white pattern and funny little cat faces.
The Muffin sofa, made of soft cotton, has a removable cushion inside and is covered with soft ecological fur to give your pet the utmost comfort. It has a traditional rounded shape and features cute ears and a soft pompom with a cord to give the cat pleasant moments of fun. This model is ideal for cats with a cheerful and playful spirit!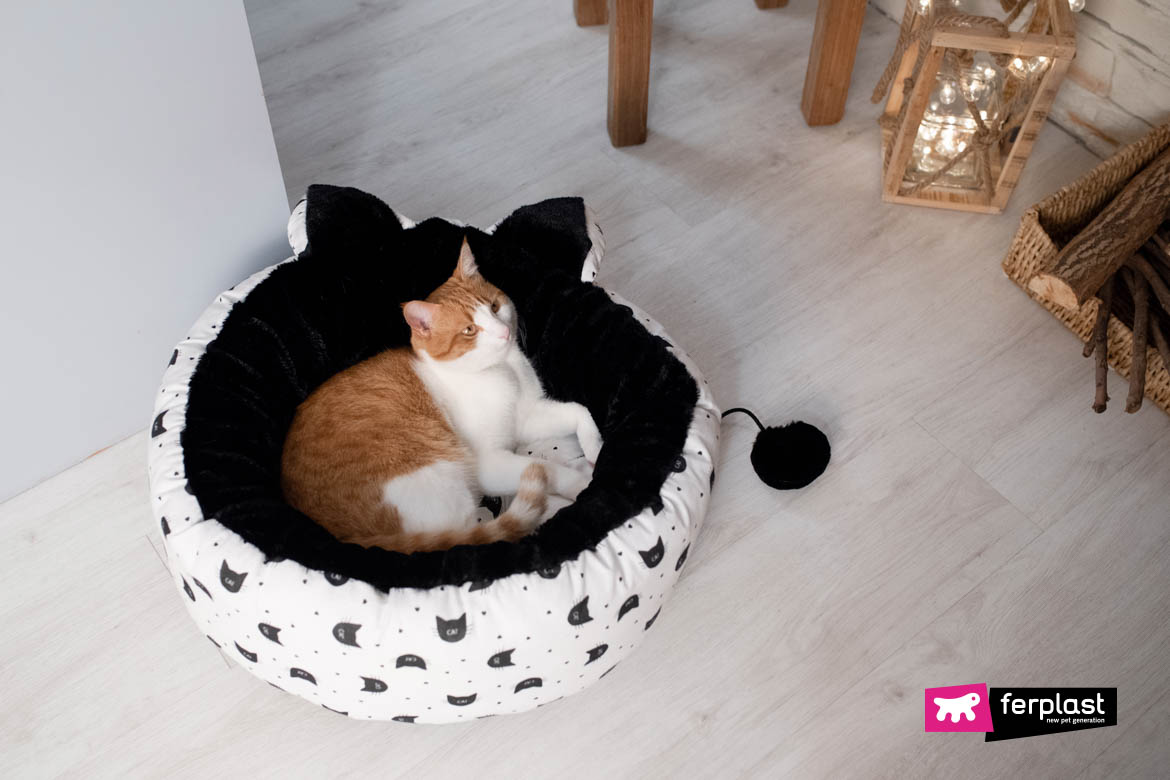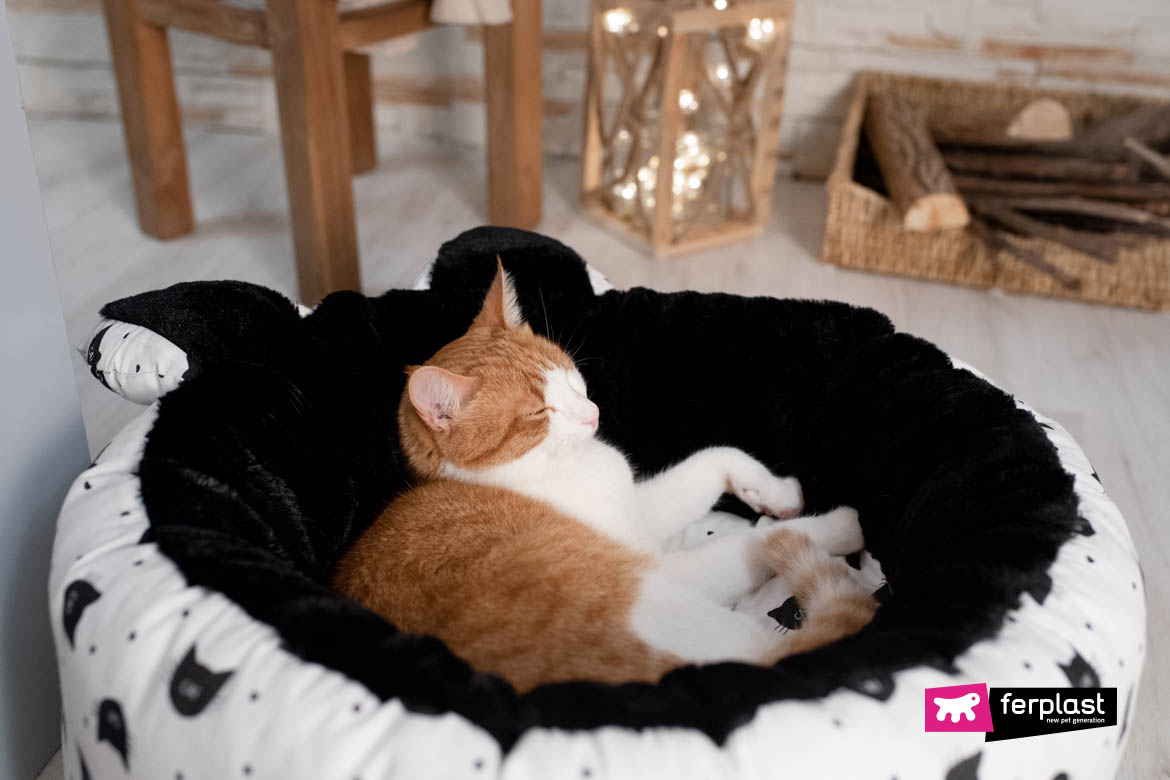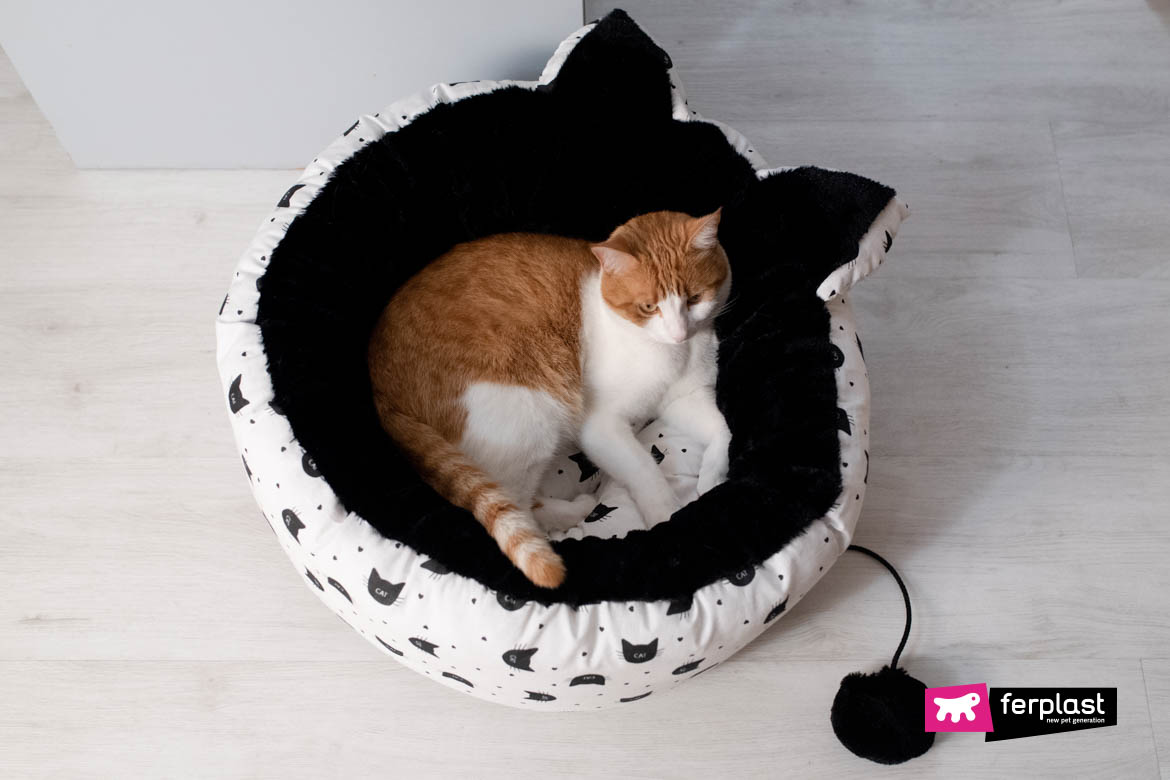 The Mikado bed is a padded cushion with a rounded shape, covered internally with ecological fur and decorated with lots of cute pompoms. Its structure makes it perfect for cats that love lounging around for hours and hours! We especially recommend this model in the winter months, because it really keeps your furry friend sheltered and protected. An alternative is Astro, a sort of basket with an elongated shape and very furry. It is also decorated with pompoms and can be machine washed at 30° C.

Cushions for cats that love to hide
One game that cats love is hide and seek. They are very skilled at playing it and, quite oddly, they tend to stay hidden inside wardrobes or closed places even for hours, to our delight… so to speak! For these playful creatures – and to save ourselves the trouble of looking for them all over the house – we have created several nice little houses and beds that have the characteristic of being closed.
Cleo is a small house made of cotton, shaped like a box and with a hole in the centre to allow your cat to enter it with a graceful leap. It is made of soft cotton and has cute decorations: tail, ears and paws, with a sweet feline face on one side, ready to peer at you with its wonderful green eyes!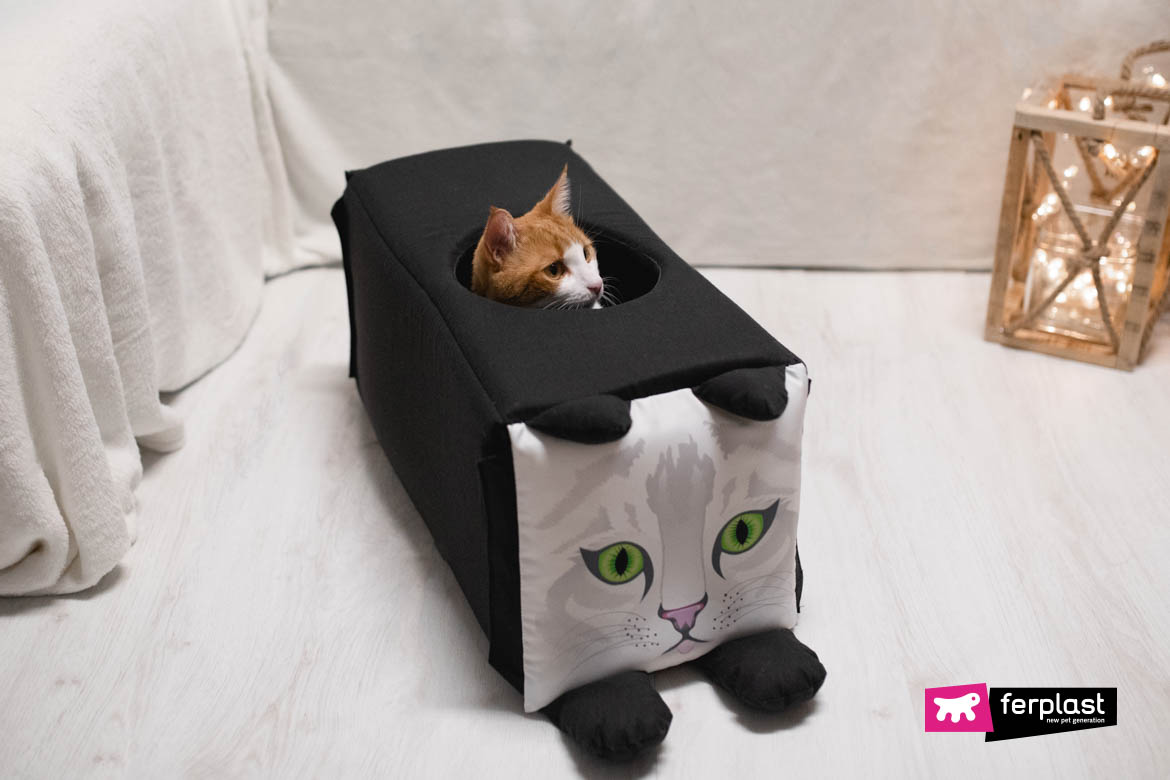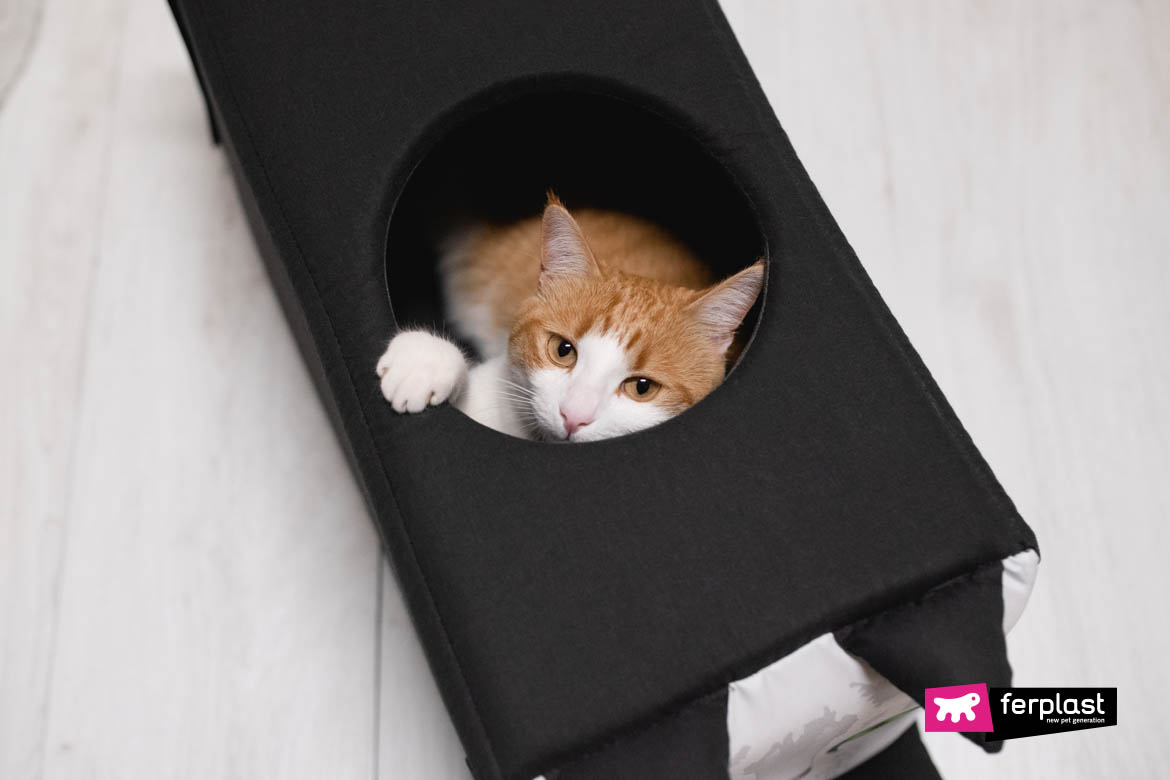 Also available in the same range, there is the Pyramid house, shaped like a pyramid-like tunnel, with two handy side openings to allow your furry friend to enter and exit easily and to peep out with curiosity at the surrounding environment.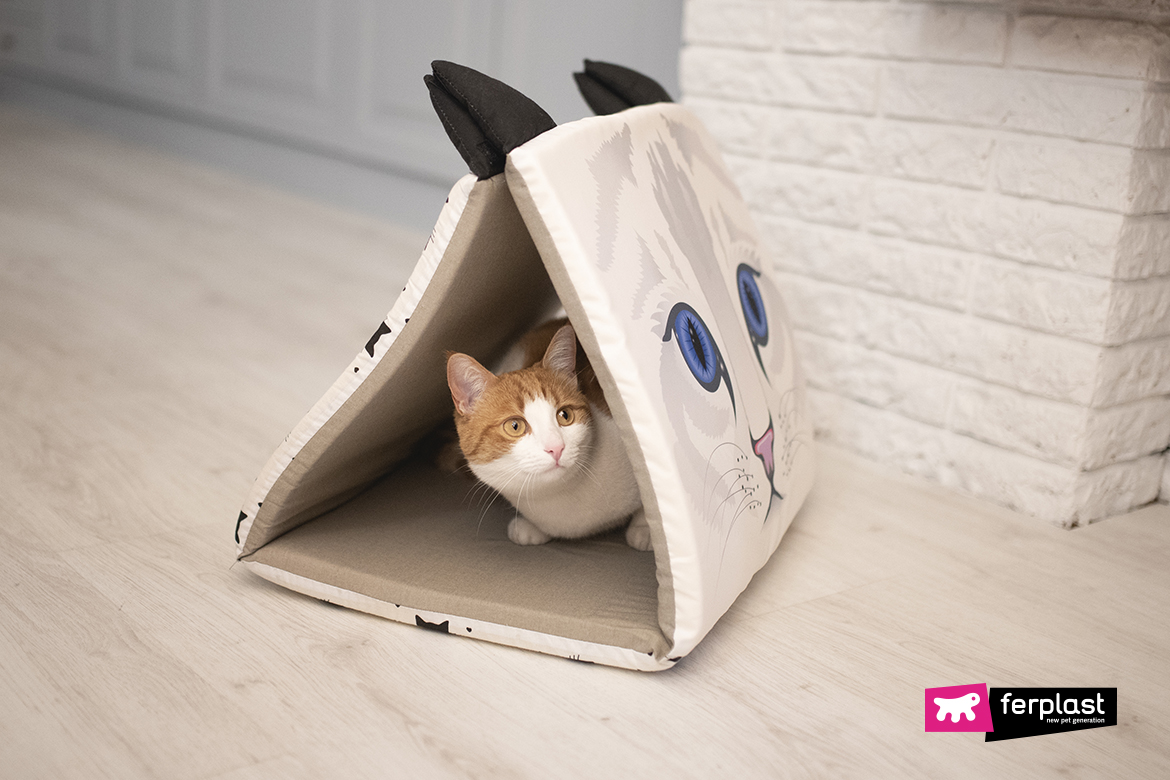 The TvCat model is particularly original: a cotton house that has a print on one side depicting an image of some old television sets, while on the other side, there is a window that can be kept open or closed thanks to some handy buttons, as well as an area from which the cat will be able to look outside undisturbed and plan to ambush anyone who approaches. On the upper part there is a useful handle that makes the house easy to move.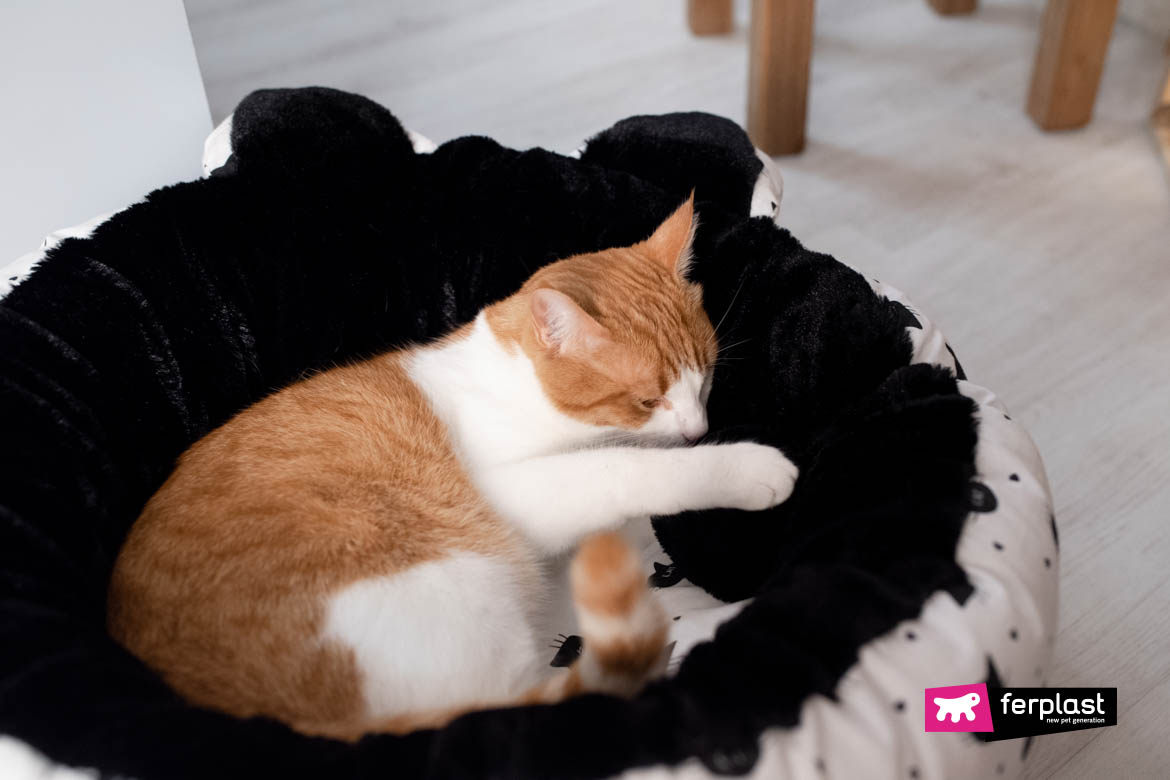 Apparently, you will be lost for choice. Which one would you take to your best friend?