Snacks are a kind of prize that our four-legged friends really like.
Not all dog treats are created equal. Some types are formulated with specific functions, such as the dental one.
What are dental treats for dogs
Many scientific studies have shown that a large percentage of the canine population suffers from diseases related to the teeth.
Dental snacks for dogs are intended to reward and at the same time promote dog oral hygiene. This benefit occurs thanks to the mechanical action of chewing, which helps to eliminate plaque and reduce the formation of tartar.
We at Ferplast have created a brand new line of dental snacks, called 100% snack, with many added benefits: they only have healthy, quality ingredients, all vegetarian, enriched with further functional ingredients.
Ferplast's line of vegetable dental snacks for dogs
Ferplast's vegetable dental snacks offer many benefits for your pet's health.
Thanks to the different shapes and sizes, they meet the needs of all our four-legged friends.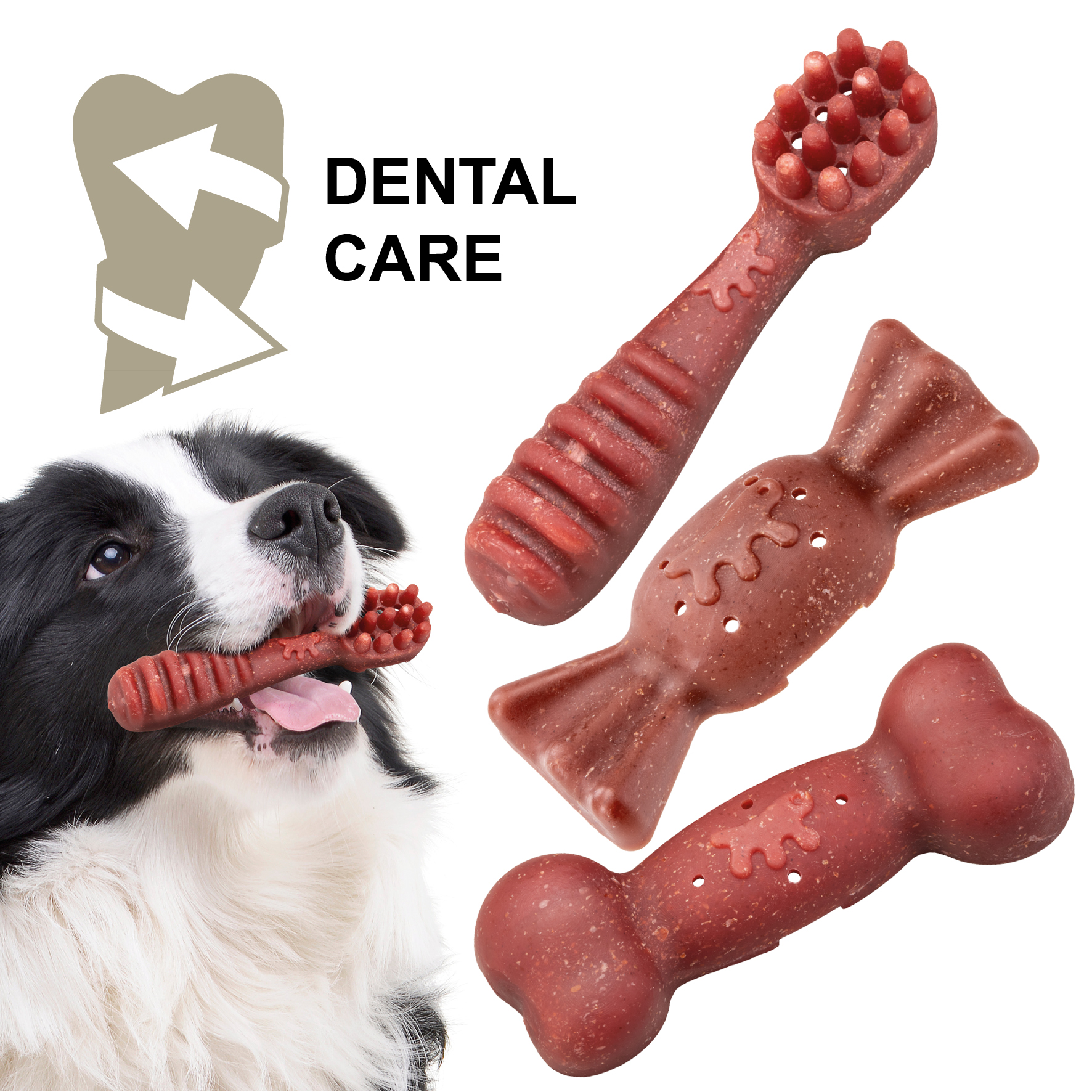 In particular, the 100% snacks have a specific shape for better penetration between the teeth and a texture that is designed to prolong chewing and therefore ensure better cleaning of the teeth.
The ingredients of vegetable dental snacks for dogs
The basis of all Ferplast's vegetable is: corn starch, glycerin, whole wheat flour, powdered cellulose, soy lecithin, sunflower oil and pea protein. The right mix of ingredients that makes them more appetizing than a traditional vegetarian snack on the market.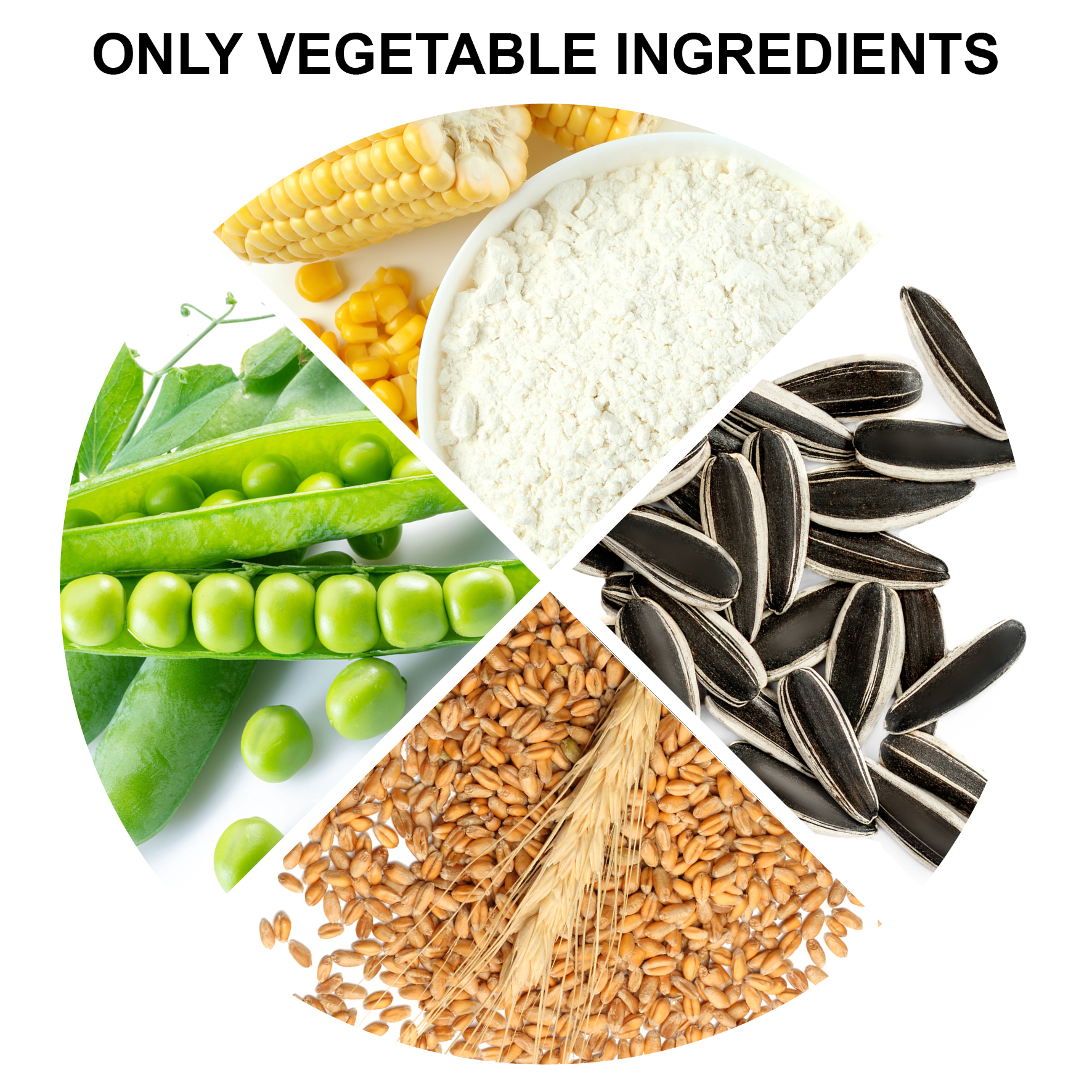 In addition to this, they do not contain artificial colours but only natural colors that are derived from vegetable concentrates.

Vegetable dental snacks for dogs as a superfood
Giving your pet a Ferplast vegetable dental snack contributes to the proper body's functioning. In fact, the 100% snacks contain natural functional ingredients that improve the health of your dog.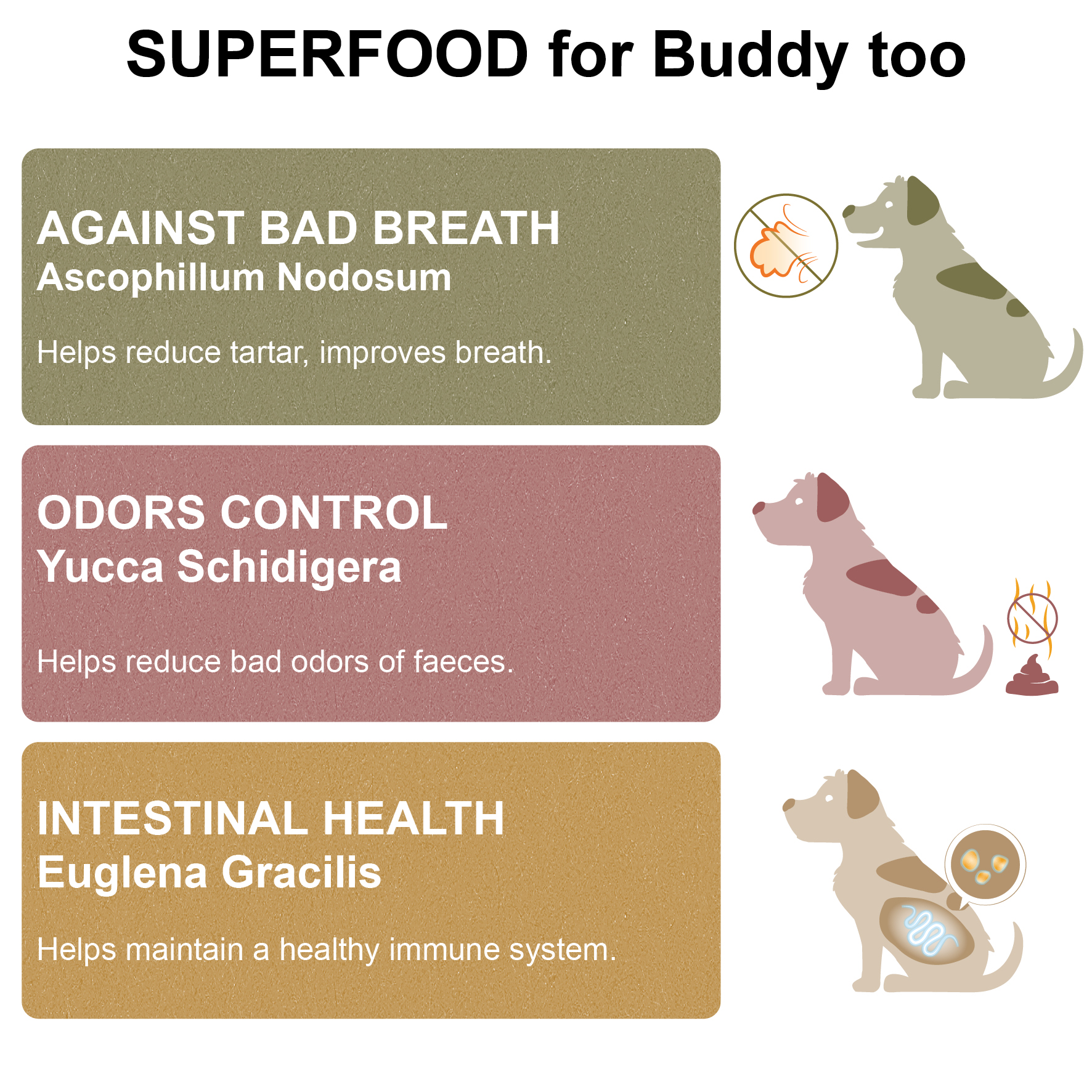 Let's see in detail what are the functional ingredients and their benefit.
1) Ascophillum Nodosum: against bad breath. Ascophillum Nodosum seaweed is rich in natural compounds that limit bacterial growth and accumulation. Helps reduce tartar and improves breath.
2) Yucca Schidigera: odor control. Contains vitamins and minerals that perform a purifying action by helping to reduce faecal odour.
3) Euglena Gracilis: Promotes intestinal health. The seaweed Euglena Gracilis helps maintain a healthy immune system.
The shapes and sizes of vegetable dental snacks for dogs
The brand new BONE, CANDY AND TOOTHBRUSH snacks for dogs can be used as they are or filled with dog toothpaste, appetizing pates or other functional pastes for maximum effectiveness.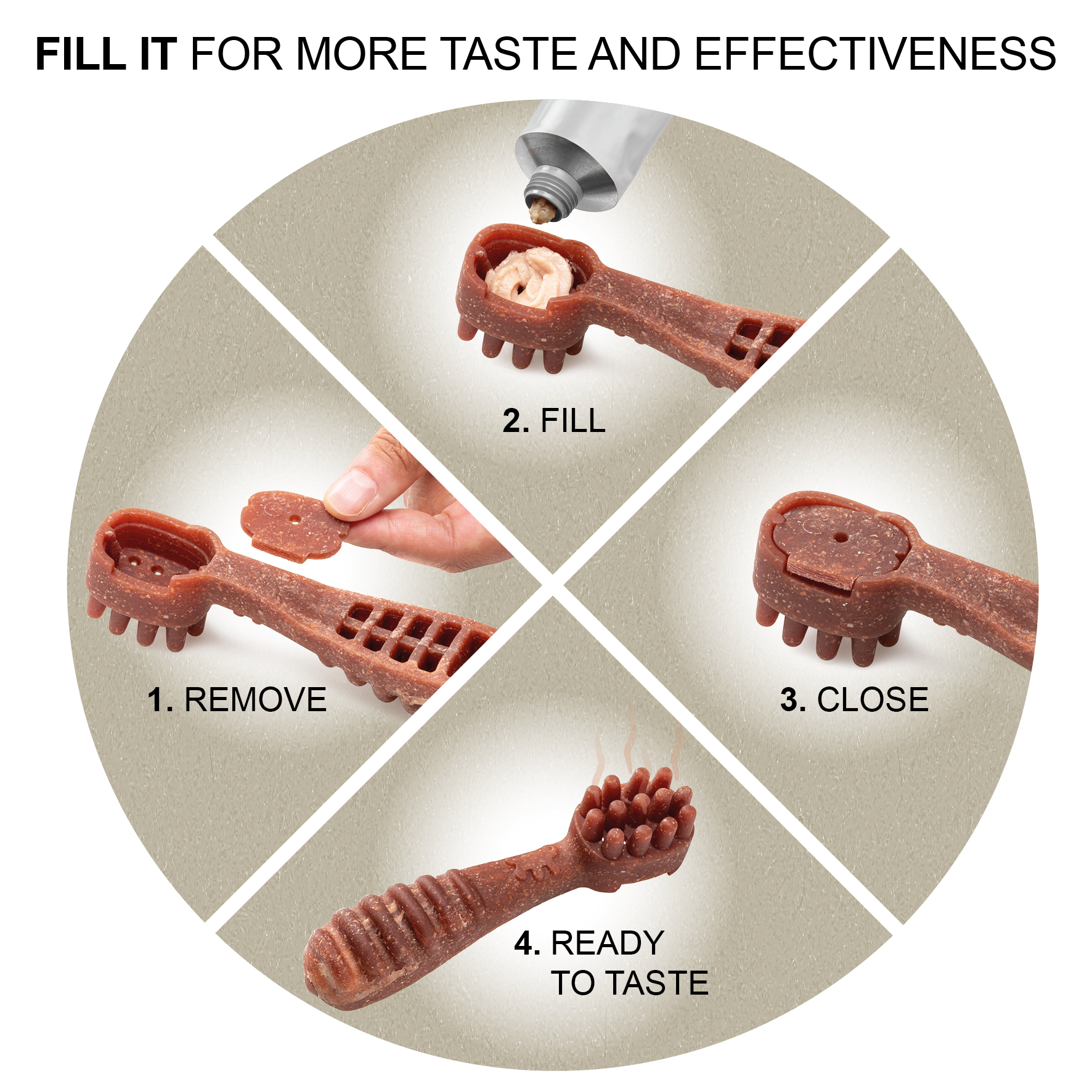 The holes that are present on the cover and on the concave part of the snacks allow the aromas to escape, making the snack irresistible and extremely functional.
As an alternative, Ferplast has also created the traditional sticks, which are a quick and effective reward.
The innovative shape of the snowflake stick allows the product to penetrate even deeper between the teeth and thus obtain greater cleaning and plaque removal.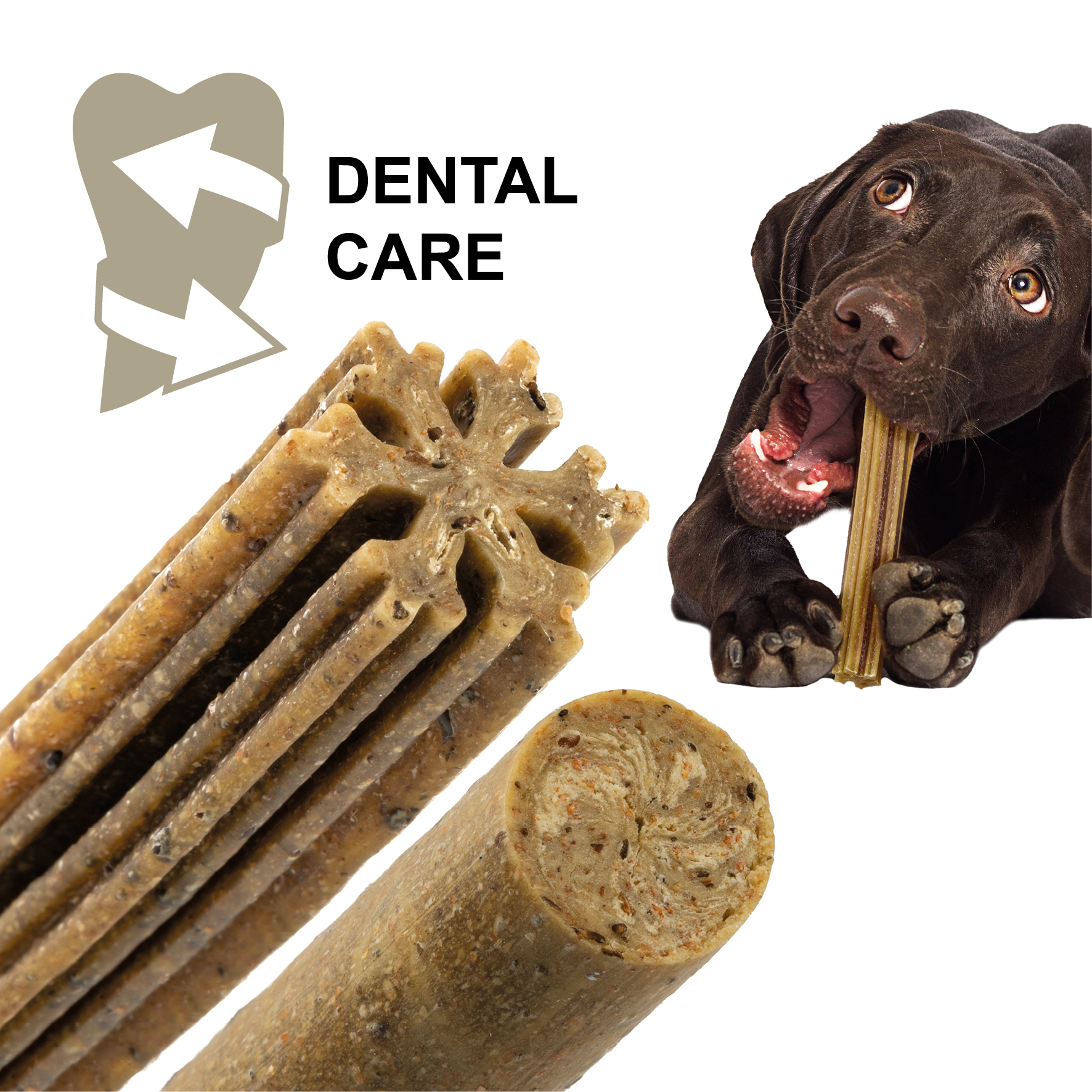 So here is our complete range of dental snacks for dogs that meet all needs thanks to the newest shapes and functional ingredients.
Guaranteed dental hygiene, but also play, health and lots of taste!