Rabbits are nice and sweet animals, but at the same time often difficult for us humans to understand. Their behaviour can be quite bizarre and we are not always able to interpret it.
If you are wondering what accessories your rabbit needs to ensure their well-being and health, here are 5 must-haves if you have a bunny in the house.
The rabbit hutch
Rabbit cages not only provide a place for your pet to eat and rest, but also become a real refuge. Providing your small animal with a space where they feel safe is crucial for their well-being. Moreover, rabbits are used to gnawing on everything they come across and letting them roam around the house unsupervised could be a great risk.
Ferplast's rabbit hutches come in different sizes, shapes and materials. 
Among the wooden ones we find Cottage Large, an indoor hutch made of FSC wood, i.e. from sustainably managed forests. It is a very spacious dwelling that provides the little guest with all the comfort he or she needs and several living areas. It is also easy to manage and clean as it is equipped with special features such as the removable plastic base to avoid soiling the floor of the house, or the tray, also removable, on the upper level. Accessible via a ladder is a nest for resting on the top floor.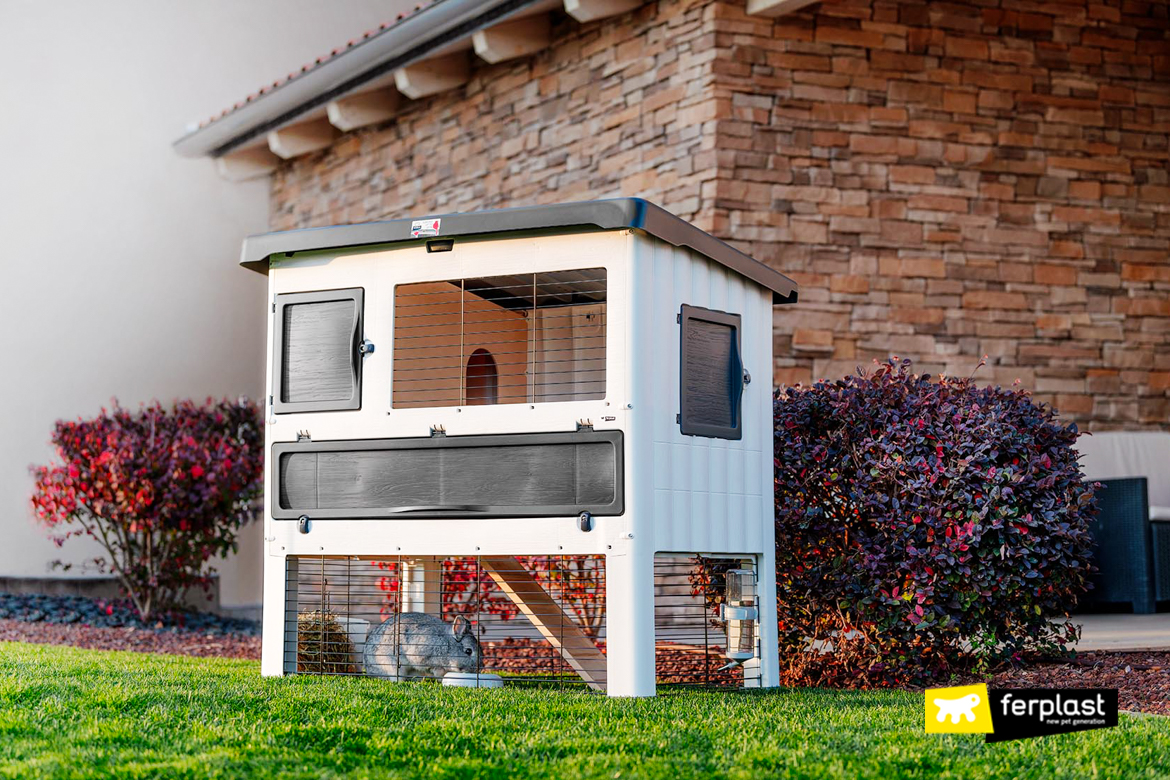 In Ferpast's wide range of rabbit cages, you can also find outdoor rabbit hutches, made of treated wood or super strong plastic. You can choose from this selection according to your taste and needs.
Baita 40 is an outdoor shed made of FSC wood treated with non-toxic paints that guarantee durability. It has a sliding roof for easy cleaning and plastic feet to keep it elevated and ensure perfect insulation from the ground. Baita is a practical shelter for rabbits living outside.
For rabbits that live indoors and use the classic cage, it is always advisable to provide a small house in which they can take refuge and isolate themselves. 
The rabbit drinking bottle
The drinking bottle is a very important tool for ensuring proper hydration of your rabbit. The models and shapes are the most varied. The upright drinking bottle allows your animal not to get wet while drinking. Drinky by Ferplast is made of plastic and has a spout with a stainless steel ball valve. Sippy is also convenient and functional, with an opening lid and suction cup for attachment to glass and plastic.
Rabbit brushes 
Accessories for brushing your rabbit will be essential to remove excess dead hair and restore shine and softness to its coat. You will need a carding brush such as Gro 4949. Thanks to its plastic teeth, it will move the dead hair with a massaging action without damaging the skin.
The Gro 4968 hair clipper brush will also be useful for grooming your rabbit's undercoat. It has small stainless steel blades that work by removing the hair knots that often occur. Finally, the Gro 5759 brush is also recommended. Its polyamide bristles promote clean, shiny coats and act on the coat in a gentle manner. 

The rabbit toilet
The toilet is a very important accessory for rabbits and should be placed inside their cage. Made of sturdy plastic and quick and easy to clean, it should be placed in a corner of the cage to allow your rabbit to do their business in total privacy and peace of mind. 
If you consider it necessary, you can also use a raised hygienic net to ensure that the rabbit does not soil its paws and to ensure hygiene and cleanliness. 
Games
Toys are also indispensable for your rabbit and will be useful for its entertainment and learning. Gnawing toys such as those in Ferplast's Tiny and Natural range will be very useful for your pet. Besides being based on natural components, they reduce excessive tooth growth and do not alter your pet's diet. 
Even a small ball like PA 4793 can be a fun and stimulating game, made of natural material and equipped with an internal rattle. 
The rabbit carrier
As with dogs and cats, it is always useful to have a rabbit carrier available, especially when you have to take the small animal to the vet. Among carriers suitable for rabbits we recommend Atlas Open or Aladino large.
Here are all the must-have accessories if you want to adopt a small rabbit as a pet and ensure their well-being, health and fun!