Every dog has its very own personality: there are sweet and docile puppies, lively and playful dogs and those with a fierce determination and plenty of rippling muscles. When you choose a collar or harness for him, you need to consider not just your own personal taste, but evaluate the characteristics of the dog and which type might best suit his character.
The GIOTTO line by Ferplast was designed for those who want a collar, harness or lead made of real leather, elegant but also very flashy thanks to the studs of various shapes and sizes that grace it, very cool for really big dogs.  We have often presented collars with various patterns and designs on this blog, but anyone who wants a more classical look, something that is noble and made of great quality leather has but to look at the wide array Ferplast has devoted to this type of special product.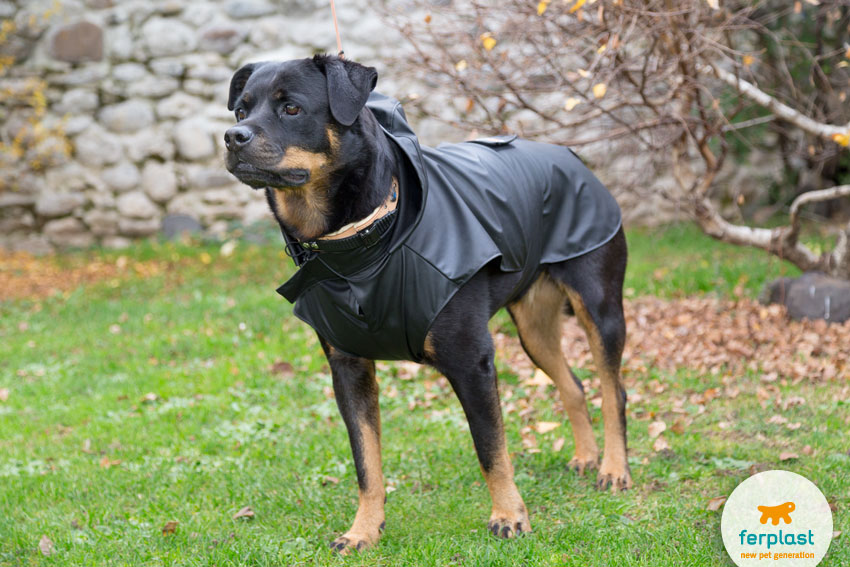 GIOTTO collars are very hardy and resistant, they can even put up with all the pulling and tugging large and lively dogs can dish out. In order to provide the dog with the highest levels of comfort, the leather collar has a padded inside to protect him. Attractive, robust, soft, adherent and safe, the collars, like the GIOTTO harnesses, come with a practical strap that can be micro-regulated – a patented Ferplast design – for a perfect fit. Anyone familiar with our products will confirm just how secure this closure system is. Unique, it allows you to quickly close collars and harnesses without having to worry about its coming loose, even if the dog pulls hard and strains to reach some unattainable buddy. The collars come in three colours: black, brown and beige. There are seven sizes that go from a minimum of 30 cm to a maximum of 76.  You can also adjust the length of the collar cutting the strap to obtain the all-important perfect fit for your dog's neck.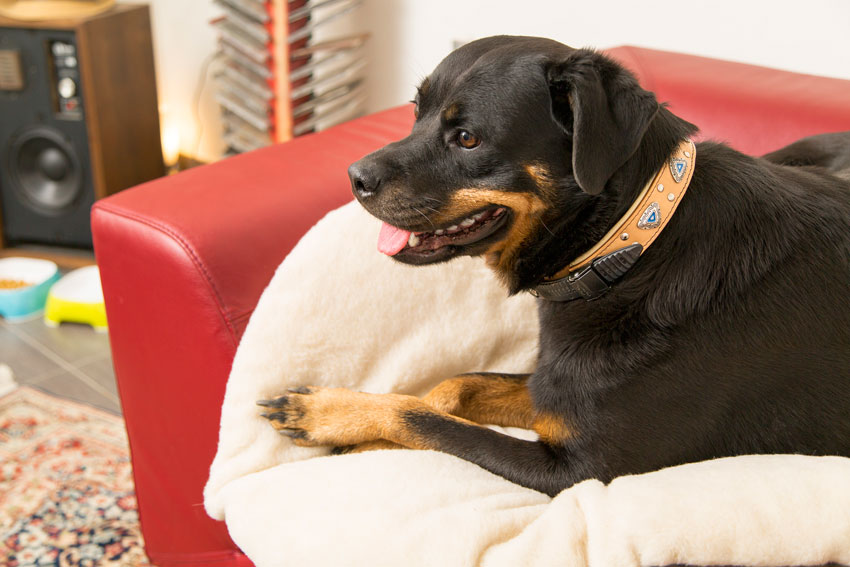 The Giotto line includes harnesses of both the Standard and Luxor line, featuring pyramid-shaped studs. They come in three sizes with a collar length of a minimum of 31 cm all the way to 60 cm. Elegant and charming, they are very comfortable to wear thanks to the soft padding that graces the inside and they are very practical to put on and adjust thanks to the double closure with micro-adjustment feature.
And, to complete the GIOTTO line of collars and harnesses, which come in the Standard version with coloured studs or in the LUXOR version with pyramidal studs, there are leads. They too are leather, of course, but they come with an ergonomic handle and expanded polyurethane padding. Giotto leads are elegant, robust and they make a statement, but above all, they are comfortable for those who hold them. Giotto leads come in three colours and two lengths: black, beige and brown, and 120cm or 60cm long.
Our dogs are ready to strut their stuff wearing GIOTTO line items: more elegant and chic than ever!